January 23, 2015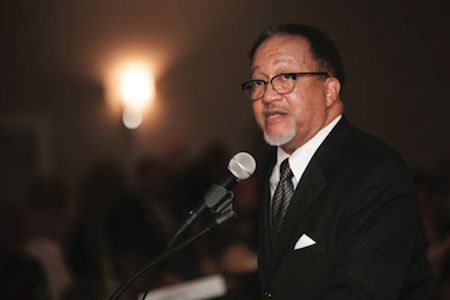 Ben Chavis (Courtesy Photo)
PEMBROKE, NORTH CAROLINA — Civil rights leader Benjamin Chavis kicked off a week-long Dr. Martin Luther King Jr. celebration in Pembroke on Friday by saying a civil rights movement is of greater need in the state now than it was nearly five decades ago.
"One of the last things that Dr. King said before his assassination was that we must strive toward economic justice as well as racial justice," Chavis said. "That's certainly true. There's too much poverty. Too many people are still near foreclosure. So we've got some work to do. I would say in 2015 we need a civil rights movement today more than we needed it years ago."
Chavis, a native of Oxford, was an assistant to King, who inspired him to work in the civil rights movement in the 1960s.
Chavis was one of the Wilmington 10, nine black men and a white woman, who were convicted of fire-bombing a grocery store in Wilmington during racial unrest in 1971. The convictions were overturned based on evidence of perjury and prosecutorial misconduct. The group was later granted gubernatorial pardons.
During a VIP reception at the University of North Carolina at Pembroke, the 66-year old told students and faculty the state was divided into two North Carolinas.
"One progressive and one reactionary," he said. "One going forward and one going backward."
He commended the Rev. William Barber, who has led Moral Monday protests since spring 2013 in response to legislation passed by the Republican-led General Assembly.
"I think that we're now celebrating the legacy and dream of Dr. Martin Luther King and certainly Dr. King's legacy falls on the progressive side," he said as he mingled with the crowd. "I'm hoping people use the 2015 King ceremonies to reaffirm the importance of inclusiveness."
As a young teacher in Lumberton City Schools, Frances Cummings remembered following Chavis after the Wilmington 10.
"He empowered me with his ideas, his thoughts and his action," she said. "As a result of listening and following him, it gave me strength to be a change agent, a shaper and mover – to make things better for the total population."
Cummings, 73, saw firsthand school integration and discrimination in the late '60s, she said, and used Chavis' experience for motivation. She moved on from teaching school to a successful political career, serving in the N.C. House of Representatives.
"Fortunately or unfortunately, I helped to integrate the Lumberton City Schools, and it was my experiences there that caused me to be more determined for change," she said. "To work with all people, to bring all people together for the good of the cause, which was what he was doing."
Chavis also spoke directly to a group of students who were among the roughly 30 people in attendance Friday night.
"To all of the young students here, your college educations are probably the most important years of your life," he said. "You're not only laying an academic foundation, but you're laying the foundation with how you're going to interact with the larger world."
Jamar Smith, a 21-year-old senior, said Chavis is a Phi Beta Sigma fraternity brother and said he came out to hear Chavis' remarks on community service and the civil rights movement.
"Being able to listen to him as a fraternity brother who worked with Dr. Martin Luther King and to see where he's come from and all the work he's done kind of gives us a second wind to push forward and to use what he's done and to try to implement it today in our work and our service," Smith said.