May 1, 2015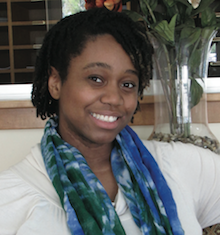 Jasmine Zapata, M.D.
This week, I had the awesome privilege of interviewing an amazing African American female entrepreneur who owns a national workout company and brand: Ms. Crystal Adell, owner of Black Women DO Workout, LLC.

She recently moved to Madison and as a pediatrician and fellow health advocate, it was an awesome experience for me to connect with her and learn about a business that not only generates revenue but promotes health and wellness at the same time. She serves as a great inspiration for others who have dreams of starting their own business while pursuing their passions at the same time.
Check out a segment of the interview below:
Jasmine Zapata: Tell me a little about yourself. What's your background?
Crystal Adell: From childhood to my adult life, I have always had a passion for physical activities like snow skiing, scuba diving, running, exercising and dance, I received my personal training certification in 2004 and started Black Women DO Workout in 2009. I had been exercising for close to 20 years prior to taking the course which prompted me to get certified so that I could have a better understanding regarding the biomechanics and medical benefits of exercise.
JZ: Tell me a more about your business. How did it get started?
CA: After I got my personal training certification, I began trying to build up my clientele but when attempting to get African American female clients, I was often told jokingly that "Black women do not work out". Frustrated by this negative rhetoric, I started a women-inspired grassroots fitness campaign on Facebook entitled "Black Women 'Do' Workout".
My goal was to turn the negative phrase into a positive one. The social media following began to grow and I noticed that more and more women came to the page to proudly show the world that they too indeed work out and were more than willing to share the results of their hard work with others. Women became inspired by other women's positive reinforcements and soon a sisterhood network began to grow in large numbers of women wanting to know more about health and fitness overall.
Our main demographic is focused on African American women due to the staggering 76% of them in the U.S. who are overweight and the 37% that are obese, according to the Centers of Disease Control. Knowing first hand the effects of obesity-related diseases like diabetes, heart diseases and high blood pressure (leading diseases in African-Americans), one of my goals was to grow the business by helping other businesses grow with partnership agreements that would allow us to procure the much needed services of community doctors, exercise/fitness clubs, health inspired restaurants, nutritionists, and fitness trainers for our followers and customers.
JZ: What's been your greatest accomplishment thus far and what are your future goals?
CA: My greatest accomplishment to date is the procurement of business through partnership agreements from mega fitness chains like Lifetime Fitness. Additionally, to be able to watch small Black-owned fitness businesses grow as a result to my strategic advertising initiatives is an accomplishment that I can certainly say is great beyond any measure. I'm also proud to say we now have over half a million followers on our social media sites. We also now have many state chapters and a following in the United Kingdom and even Africa!
A goal and passion of mine is to focus women's discussions to longevity and more preventative measures as it relates to preserving our health. I believe if I continue to encourage Black women and women in general around the world to begin to take a particular interest in a lifestyle change this will spark their interest in activities that are not only energetic and fun to engage in, but maximizes alternatives in exercise awareness. We will soon begin to see women who have never tried dance as a way of fitness, for instance, Zumba, Belly and Timbuk African Dance, find joy in these exercises because it makes them aware of the natural movements that go along with culture and heritage all while unknowingly burning up to hundreds of calories an hour. Adventurous women who are curious about biking, kayaking, boxing, or indoor rock climbing will find themselves connecting to like-minded individuals looking for the same. These are just some of the changes I have seen through some of the events that Black Women DO Workout has already provided in various cities around the U.S. with a considerable amount of turnout and my goal is to continue to grow this model and way of thinking.
JZ: How did you fund your business when you first got started?
CA: Through my own financial investments into products, my supplement business, with financially partnership agreements for revenue sharing and through advertising. We generate revenue through t-shirt sales, online advertising, and event sponsorship and hosting.
JZ: What's the biggest barrier you have faced with starting your own company and how did you overcome it.
CA: A challenge that I had to overcome was not being able to reach out to bigger company's decision-makers for financial partnerships in the early development stages of my business. Smaller companies (like mine was at first) typically do not have a lot of financial resources for spending on advertising, especially African American businesses.
Additionally, not going after funding through various small business programs prevented me from having the working capital to handle a lot of the legal requirements for running a business. Now, I work really hard to network and partner with others, which helps me overcome these barriers. Also, I believe that if you follow your passions, the money will eventually come and to not worry about it too much.
JZ: Define your WHY. What gets you up in the morning every day and motivates you to reach your goals?
CA: What drives me every morning to reach my goals is my desire to make a DIFFERENCE.
JZ: What advice do you have for women, in particular, women of color looking to start their own business, become successful entrepreneurs and reach their dreams?
CA: One message is to stay positive, encourage one another and avoid negativity. I want everyone to know that I have been there with that one difficult thing that I thought I could not do and will fail at it. But failing at anything that is difficult leads to the opportunity to do it better the next time. In my heart is the yearning to show the world that the best of what any woman can present, regardless to color or race, is her inner beauty and how she chooses to use it to turn things around for herself.
JZ: Thanks this was amazing! Any upcoming events or ways people can connect with you more?
CA: I'm excited to be partnering with Dean St Mary's and Fountain of Life Church (633 S. Badger Rd.) in Madison Wisconsin, on June 13, 2015 at 10 a.m. for a free workout and health awareness event. I'm hoping to partner with other Dane County organizations, non-profits and businesses in the future as well to provide the ultimate in fitness, fellowship and FUN.
---
Jasmine Zapata, MD is a pediatrician, motivational speaker, mentor, singer/songwriter, mother, wife and entrepreneur from the Madison area. She can be reached at browngirlgreenmoney@gmail.com or www.facebook.com/DrJasmineZapata.
---