July 17, 2015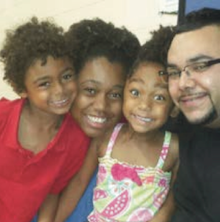 Jasmine Zapata
Last week, I had the great honor of talking to a group of minority middle and high school students about preparing for college. It was awesome to see the excitement and passion in their eyes when talking about their future career goals and dreams. They were excited about college and how it would be a tool to help them become successful; however, one of the biggest concerns they had was how they were going to pay for it!
That, too, was one of my biggest concerns when I was in high school. Not only did I need to figure out a way to pay for college, but to pay for medical school as well, if I wanted to reach my dream of becoming a doctor. The average amount of debt for graduating college seniors is $30k and has been rising yearly. Even worse, the average amount of debt for graduating medical students is $160k! Finally, according to recent research, the percentage of African Americans that must take out student loans is significantly higher than their non-minority peers. I had a lot stacked against me. So I had to find a way to get as many scholarships as possible!
I worked really hard in high school to reach this goal and, long story short, I was blessed to eventually get my entire college and medical school tuition paid for! I was awarded with full tuition scholarships to Marquette University and UW School of Medicine and Public Health, plus got lots of smaller ones along the way to help pay for books. I still had to take out loans for living expenses and other things so I am by NO means completely debt free yet, but by getting all my tuition paid for I tremendously decreased the amount of debt I could have had. I'm not sharing my story to bring attention to myself, but to encourage you that getting scholarships for college IS possible.
Here are the top ten tips I've learned over the years for best positioning yourself for scholarship success:
GET INVOLVED EARLY in extracurricular activities throughout your high school career. Don't wait until senior year. Colleges and scholarship committees are looking for long-term commitment and dedication. Don't just get involved when it's time to apply, get involved early!
VOLUNTEER, volunteer, volunteer! You need more than just good grades to be competitive for scholarships. The committees want to see that you are contributing to the community in a positive way. I recommend choosing an organization or nonprofit that fits in line with your future career goals and interests you. That way it won't feel like a chore, but you will actually enjoy the work.
Take on as many LEADERSHIP positions as possible. This is key to scholarship success. Whether it's being track team captain, student body president or robot club secretary, this will help out your scholarship application greatly. And again, back to point 1, try to take on leadership opportunities early on to show long term commitment and dedication. The more experience the better.
BE CREATIVE when writing your scholarship essay. Don't just write what you think they want to hear. Scholarship committees can read up to hundreds of essays everyday and you want yours to stand out. Consider starting with a gripping personal life story, or start with a shocking statistic. Think outside the box and don't be afraid to be creative. Give them a reason within the first 30 seconds to keep reading.
APPLY LOCALLY to scholarships in your area. Don't always focus on the large national competitions in which thousands of students or more apply yearly. Your chances will be much greater if you apply for local or state scholarships specific to your life or your background.
Contact your SCHOOL COUNSELOR regularly and inquire about any new scholarships they may be aware of. Your school counselor is a great resource. Many organizations send scholarship information right to your school's office. Make sure to take the INITIATIVE to check in regularly about new scholarship opportunities. They won't always track you down.
Get a trusted adult (school counselor, teacher, etc.) to PROOFREAD all your essays. This one is self explanatory, but very important.
Focus on your SCHOOLWORK! This is an obvious one, but also very important. Seek out study groups, get a tutor (no matter how good your grades already may be) and work hard. Getting good grades and performing well in school will at times take great sacrifice, but do the extra work now and, believe me, it will pay off in the end.
If you are involved in SPORTS, continue to work hard to develop your skills. Even if you don't get a full scholarship, many colleges offer partial scholarships or will be willing to pay your book money. If you aren't Division 1 material, consider going to a smaller college with the sports team of your choice.
And most importantly, NEVER GIVE UP ON YOUR DREAMS! As you are navigating the process of applying for college, looking for scholarships, and graduating high school period, things at times may get tough. Obstacles may be thrown in your way and at times you may be discouraged, but please remember to never give up on your dreams and you can do ANYTHING you set your mind to!
That's it for now. Be sure to share this with any high school students you may know.
Thanks! Have a blessed day!
---
Jasmine Zapata, MD is a pediatrician, motivational speaker, public/preventative health advocate, mentor, mother, wife, and entrepreneur from the Madison area, whose mission is to heal, uplift, empower and inspire. She'd love to keep the conversation going and can be reached at www.facebook.com/browngirlgreenmoney, www.facebook.com/drjasminezapata or at browngirlgreenmoney@gmail.com.
---