(Part 2 of 2)
It was a sold-out event, as author Queen Afua spoke Sept. 20 at the Alliant Energy Center and got the exhibition hall energized. The well-known author and wellness business owner from Brooklyn, New York, was keynote speaker, addressing 400 folks at Black Women's Wellness Day.
Lisa Peyton-Caire, founder of the Foundation for Black Women's Wellness, said she had first read about liberation through purification when she was 18. Peyton-Caire referred to Queen Afua's book, "Woman Heal Thyself" as a "life-changing read that penetrates your heart and soul." During the last 40 years, the natural health practitioner has educated thousands using simple tools that "transform you," she said.
Queen Afua addressed the group, stating that it was "a really auspicious day" for her, and shared her story with the mostly female audience.
"My mother fell sick at 64 years young," she explained. "Her mind left, her body left…" When her brothers brought her back into the kitchen, despondent and not knowing what to do to help their mom, Afua said, her mother whispered to her in a barely audible voice, "'Help me! Will you help me?'" That spurred Afua on to create Green Life Formula, which she stated strengthened her mom back to health.
Now 90 years old, her mother was recently hospitalized but successfully recovered. "She's not on death's door anymore," Afua said. "My mother told me, at 90, that she wants to love another 10 years, she said.
Afua said she snuck into the hospital wearing her white lab coat and gave her mom the green formula as well as other natural health remedies. "It got her walking," the author detailed to the audience. "She got her life back."
According to Afua, "you're the keeper of health in your house," and you can help your mother, father, children, and husband by creating a paradigm shift and using "your life as a living example of wellness.
The internationally renowned speaker indicated that from age seven to 16, she was a "diseased child" with lung problems and asthma. She also reported that as teenager, she had womb health issues with heavy bleeding, and also suffered from headaches.
Afua attests that 45 years ago at the age of 16, her life took a change for the better when she decided, "today is the day I heal myself." She then invited everyone at the event to repeat these words and to ponder on this approach.
Afua continued to lead the group in positive affirmations: "I am indestructible." "I am healed." "I am whole." "I am dynamic." "I am powerful." "I am the woman who lightens the darkness." "I have overcome destroyers." "I am there for those who weep." "I am woman!"
Out of the box
Afua said when Peyton-Caire called to ask whether she could speak at the conference, she told Afua, "'we chose you because you're out (outside) of the box.'"
Giving that a bit more thought, Afua said she decided to incorporate the box theme into her comments. Upon further reflection, she thought it would be beneficial to bring a box and use it as part of her presentation.
"Who put you in that box? Is it that your father's dreams are in that box?" That box, she went on to say, represents being wounded as a child, short-sightedness, pain, chronic pain, endometriosis, small thinking, a heavy heart, guilt, and shame.
"But the box is somebody else's life, not yours," Afua declared. "Are you ready to get free?" she inquired, mentioning the plentiful greens and nutrients so you can let go of that hurt that is inside. "That box may be in your heart. Open up your heart and be free. Let go of all the people that offended you in 1954. And (then) something else happened in 2005 and you got mad again…"
Afua stated, "When your heart is heavy, you overeat"—and then there's eating because you're lonely, sad, etc., not because you're hungry. It's time to get on the freedom trail, she indicated, describing how "when you get a light heart, you get a happy spirit." She attributes heart disease and strokes to having a heavy heart, and indicates that suicide is about having a heavy heart.
Today, you're going to get your freedom papers," she asserted. "What have you done for yourself lately?"
Afua paraphrased a pearl of wisdom passed down from the ancestors of yesteryear: "Our hearts must become as light as a feather." If there's a person weighing heavy on your heart, she advises, "Give them the freedom to leave your body." To her, every person you encounter is a teacher and every lesson is a blessing.
Choosing freedom
The wellness practitioner indicated, "Sometimes you want to run from yourself," sharing the 13 petals of freedom, which include the ability to stand up for yourself, honesty, and healthy relationships.
"I am a woman who has the ability to help other women and men to get out of their box, because I am a free woman. "When you get free, don't let nobody put you in that box again, because your family is dependent on your freedom," implored Afua, referring to the woman as the centerpiece of the home.
Afua emphasized that how paramount it is to choose life: "Speak words of power. Eat foods that heal. Eat foods that grow in the ground. Choose life. Detoxify your relationships. Step inside yourself, your healer. Go within to heal yourself…. It's in the plants. It's in the sunshine…"
She affirmed, "The power to heal is within me…whatsoever it may be, everything I need is within me because I have the power, the mighty power. The heal myself."
Afua announced that this is the appointed hour, and invited folks to take the journey with her. "We all have an anointing," she indicated. "This is no play-play…is today your day?"
For details regarding Queen Afua's plant based wellness formulas, which she indicated have been tested by Dr. Bernadette Sheridan, M.D. of Grace Family Practice, see www.queenafua.com or call (718) 221-4325.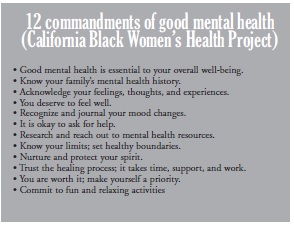 Choosing mental, spiritual healing
Following lunch, participants had the opportunity to choose from four workshops on mental health, mindful eating, money and wealth strategies, and building health circles and networks that empower.
Corinda Rainey-Moore, M.S, with Journey Mental Health Center and a board member for the Foundation for Black Women's Wellness, served as facilitator for the session titled, "Breaking Our Silence: Choosing Mental and Spiritual Healing as Black Women." The workshop featured speakers Brenda Wesley, Carlotta Calmese, and Natalie Watson.
Wesley, a trained mental health educator, said two of her closest family members, her son and her sister, live with mental illness. She is the creator of ASK (Access, Support, and Knowledge) which is a program designed to help African Americans people break the silence. An award-winning playwright, she wrote the play, Pieces: In my Own Voice, which she adapted two years ago to reach out to youth.
"The only way we can heal is by telling our story," said Wesley, who has travelled throughout Wisconsin since she first wrote, Pieces. "…No one should ever be so clever as to think—not me, never!" she shared a line from the production.
Panelist Carlotta Calmese is in her 35th year in higher education, and currently is an associate dean at Madison College. She was called to the ministry more than 30 years ago and is a leader at Foundation of Life Covenant Church. One of her brothers has significant bipolar disorder, and she said she is relieved "every day I don't get a call that he's in the morgue, because I never know one day to the next…"
Calmese describes herself as "a big proponent of seeking treatment" for mental health challenges. "It's about opening the windows…we let that shame come off, that dysfunction, the things that we have hid in our closets and in our boxes (referencing Queen Afua's comments.)"
According to Calmese, though black women are incredibly strong and resilient, the idea that "we don't need anybody," is "the farthest from the truth as the east is from the west."
She shared that she has a form of lupus, is divorced, and is depressed. "So why do I choose spirituality? Because it is what gets me through," she said, pointing out the "God-given dimension of mental health care."
Calmese discussed what constitutes spiritual wellness, stressing, "It's about reigning in those negative attitudes. Sometimes you have to get rid of those negative people in your life."
"Bring that mess out of the closet, because when you keep those secrets, it's bondage," she attested. "It is okay to ask for help."
She suggests when you're stressed to call a (positive, encouraging) friend rather than a naysayer. "Use one of those lifelines. Come up with some creative options," she implored, adding that the April issue of Essence magazine ran two excellent articles on mental health.
When it comes to mental and spiritual health, Calmese advised, "Each one, teach one, tell one."
Taking off the mask…
Natalie Watson is a researcher at University of Illinois Champagne-Urbana that says that attitudes and behaviors can be changed. Now a doctoral student, she started interviewing women as an undergraduate, asking them, 'What does it mean to be an African American woman?' "But no one was asking, 'How do you understand how your race and gender intersect?'" she stated.
All of the women spontaneously spoke about strengths African American women have, the researcher said—"independent," "self-sufficient," etc. They also noted that "they prioritize the needs of others above their own (needs), making sure everybody's okay," but what Watson said was not clear in talking with them is whether their own needs were being adequately met. This also helps "explain why we as African American women tend to not use mental health services," she emphasized.
She went on to ask the women if they saw any relationship between the strength aspect and not seeking mental health services. Watson reported that many told her, "'Oh yeah. I don't have time to a see a therapist.'" Many of the women also expressed concern that "I'm going to be seen as weak if seen in a therapist's office," or if someone finds out they are seeing a therapist.
Watson identified higher anxiety and depression in the women that endorsed the need to be seen as strong, and also noted that they were more likely to eat for psychological reasons than to satisfy physical hunger. "So why do we stand by this badge of honor, of being strong?" she asked.
Watson spoke about the sense of empowerment and the sense of pride, of feeling connected to foremothers. "How can we draw on the positives of strength and what it has given us, as well as face the challenges…?"
Watson indicated that it takes the same strength to ask others for help, and the same strength to not judge other people when they are being honest about their experiences with mental health. "So let's make those our measures of strength," she implored.
She emphasized the importance of providing "services for African American women that are going to click with their values" and not feel more stigmatizing. Watson stated that when it comes to mind-body intervention workshops, "It's so obvious that we (black women) are hungry for these kinds of dialogues, these kinds of services…"
The Reveal is a collective of African American female scientists-practitioners with about a decade of experience, which is now offering culturally relevant workshops, trainings, and retreats in the Midwest. (Contact watson26@illinois.edu for information)
Watson talked further about "taking off the mask of (being) strong black women– without worrying about what people are going to think of me if I have to take off the mask."
She also recommended that one of the ways to make sure your voice is heard be by participating in research.
During the question-and-answer period, one person remarked that she has a white male doctor as her primary care provider. She said, "It can be difficult to put yourself out there when people don't understand our culture, don't understand who we are as people."
Another individual acknowledged that there's something to be said for cultural competence, but said she doesn't necessarily think that the person providing care needs to be black. She believes that it's "not necessary for them to have lived our experience to understand us, but they have to be willing to be open," ask questions and learn.
Coming out of the closet…
The point was made that although 13 percent of the total population is African American, only 2 percent of psychologists are African American. One of the speakers encouraged people that are being treated by an African American therapist and it's working well, to tell somebody else. "…You need to come out of your closet," she said, talking about how it's another opportunity to share and tell.
Wesley recommended communicating with mental health providers and telling them that they need to do a serious canvassing of providers to get more black therapists. She said she herself would rather walk in and see someone who looks like her.
Rainey-Moore has been a therapist at Journey Mental Health for 20 years, though many people may not be aware she is there since she works off-site, not in the main building. "Don't make the assumption" that because you do not see a black therapist, the clinic does not have someone, she cautions.
"We are out there, but there are few of us," she said, in part because the stigma is still there so folks aren't learning about it.
The National Association of Black Psychologist lists one African American that is a licensed psychologist in the state of Wisconsin, Dr. Erlise Ward with UW-Madison.
Wesley said she speaks to groups of anywhere from 200 to 600 people about the signs and symptoms of mental health issues. "People stay (afterward), and they want their questions answered," she stated.
One woman in the audience stated that she has had OCD since she's been three or four years old, affirming that the condition runs in her family. She said she makes her therapist, who is white, know her and understand her. "We have always stood back from seeking therapy or treatment," she said.
"It gets to a point where you need help. I don't care what color you are," one individual said.
It's paramount to know what your triggers are, when you're eating and you're not hungry, when you're sleeping too much, when you're snapping too much (short-tempered).
One person that has legal experience and has worked with social service agencies said she is saddened to see the recidivism, with people with chronic mental illness often being incarcerated.
NAMI is training its first set of CIT (Crisis Intervention Team) officers in Madison this month, to help get people in treatment and not thrown into jail.
The concluding message: Continue to talk about mental health to decrease the stigma and educate society about mental health because everyone is directly or indirectly affected.