July 24, 2015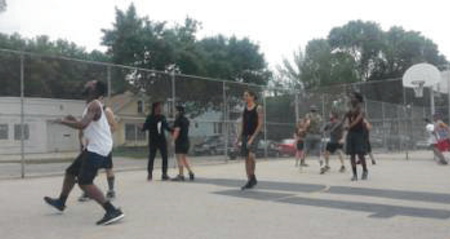 Milwaukee bands Rio Turbo and New Age Narcissism (NAN) play against each other in one game of basketball.
During what could be called a time of national turmoil and divide – when those of different backgrounds and races may feel forced to regard one another with suspicion – there are yet groups of individuals who aim to heal our societies by supporting and celebrating our common human experiences.
About a year and a half ago, Milwaukee's Johanna Rose and Alex Heaton crafted their own attempt to support positive, meaningful aspects of the human experience while emphasizing the importance of shared festivity.
They named this attempt "Bandsketball–MKE (BMKE)." The concept behind Bandsketball is simple: invite different musicians together to play in a halfcourt basketball tournament.
Since its inception, B-MKE's impact in the Milwaukee community has been powerful.
Through this annual multi-week event, Rose and Heaton have melded the realms of music and sports to integrate sound artists of all genres throughout the Milwaukee area.
They have given to Milwaukee the opportunity for artistic and communal collaboration, celebration, and unity.
B-MKE is a public basketball tournament between thirty-two Milwaukee bands and artists' groups.
This year's tournament began last Saturday, July 11 and will take place every Saturday until August 1.
While social media suggests the existence of a few other bandsketball events in the U.S., B-MKE has accomplished the most visibly solid online presence.
Last year, B-MKE awarded its championship title to the old school, hip-hop inspired musical group, SAFS Crew. SAFS Crew consists of several Milwaukee musical artists including RTystic and Vincent VanGREAT.
DJ Annalog selects from her Hip-Hop, EDM, and Trap musical catalog to provide the soundtrack for the first day of B-MKE's Bandsketball 2015 Tournament.
The group's online profile states that SAFS Crew seeks to "take Hip-Hop back into the streets and the stars [by…] exploring sounds and creating timeless music with a purpose and meaning." "When we were asked to defend our title this year, we couldn't say 'no,'" said VanGREAT.
Members of SAFS Crew learned about B-MKE after co-founder Heaton had approached them last year. SAFS Crew was just one of many musical groups that have been personally invited to participate in B-MKE.
"We always approached people in person instead of Facebooking and getting lost in that," said Rose. "We would go to shows and try to talk to bands after that."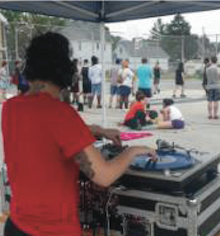 DJ Annalog selects from her Hip-Hop, EDM, and Trap musical catalog to provide the soundtrack for the first day of B-MKE's Bandsketball 2015 Tournament.
Both Rose and Heaton are active participants in Milwaukee's music scene. Rose performs as a standup bassist and vocalist for New Boyz Club and Airo Kwil, while Heaton plays bass, drums, and other instruments for bands like Ugly Brothers and Brunch Palace.
"We were really careful to ask bands from all sorts of different genres," said Rose.
"So all these different genres could get together and meet each other and get to know each other… [D]ifferent types of music could influence each other."
In an interview last Saturday, RTystic confirmed the impact B-MKE has had on mixing up the Milwaukee music scene.
He said that B-MKE has already facilitated a number of musical collaborations and mixed-genre shows.
To others who interested in establishing their own means of promoting positive change in their communities, Heaton suggests taking the initiative.
"Don't wait for other people to tell you can do something or give you the authority to do it," said Heaton.
"If you can figure out a way to do it on your own, just make it happen."