July 3, 2015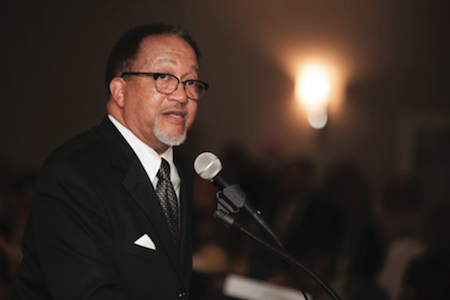 Benjamin F. Chavis, Jr., NNPA Columnist
Despite ill-intended efforts to do it for us, Black Americans have a responsibility to define our own reality. It is a fundamental human right recognized and respected by the United Nations.
Despite ill-intended efforts to do it for us, Black Americans have a responsibility to define our own reality. It is a fundamental human right recognized and respected by the United Nations. Therefore, it is incumbent upon us to define, without apology, the deadly and debilitating manifestation of racial discrimination and injustice as "economic racism."
Why are so many Black Americans still mired down in intergenerational poverty, lack of health care, inadequate education, raging unemployment, disproportionate imprisonment, the highest rate of housing foreclosures and housing discrimination, the lowest rate of bank lending and overcall exclusion from access to sustainable wealth generation in every region of the nation?
How is it mathematically possible for Black Americans to spend more than $1.2 trillion annually in the United States, and yet the overwhelming majority of the companies that make huge profits from the annual spending of Black Americans do nothing more than invest far less than 1 percent of their profits back into Black-owned businesses and grassroots organizations throughout the country?
Why does the American economy remain racially segregated in 2015? Why are Black Americans consigned to poverty and economic inequality?
The answer is amazingly simple: It is the reality of economic racism, defined as the intentional racial discrimination against Black Americans and other people of color to prevent economic equality, justice, parity, advancement, and empowerment; it is the systematic racial exclusion of Black Americans and other people of color from economic policy-making at local, state and national levels in both corporate and governmental entities; and, it is economic institutionalization of racial oppression, stereotyping, and profiling coupled with the ignorance of racial prejudice and hatred.
Yes, this is an admittedly complex definition of economic racism. The matrix of complexity concerning economic racism, however, does not make it impossible to challenge and to overcome. No one is born a racist. We can and will eventually liberate ourselves from all forms of racial oppression and economic racism.
We have not concentrated on economic racism as much as we should have because of the overemphasis on politics. But we eventually had to recognize that even our political system is controlled by economics and politicians tend to be more responsive to those who support their campaigns economically.
The economic liberation of Black America will require establishing more internal unity and more external coalition-building and partnering with those who stand for freedom, justice and equality with their money, words and deeds. Organizing and mobilizing an effective movement to challenge and overcome economic racism is long overdue.
The perpetrators of racial injustice and discrimination are always reluctant to confess or acknowledge the reality of these centuries-old phenomena. In the United States, in particular, there is a historic and contemporary denial of how race plays a determinative role in all aspects of society. As former U.S. Senator Bill Bradley (D-NJ) was fond of saying, "Slavery was America's original sin, and racism remains its unresolved dilemma."
And we see that racism manifested in so many ways.
Today, it now appears that the only way to get people to acknowledge racially-motivated police misconduct against Black Americans and other people of color is to have a videotape of the transgression. Thank God for the recent videotape of the police murder of unarmed Walter Scott in North Charleston, S.C. Sometimes, as was the case with Eric Gardner in New York City, we can have videotape and rouge cops still escape punishment.
Racism in all of its oppressive manifestations must not only be consistently called out and challenged, but also we must be vigilant and diligent to make sure that we are effective in the elimination of the undergirding factors that cause racism to exist and persist in the first place.
In my home state of North Carolina more than 32 years ago, while helping to lead civil rights protests against the digging of a massive toxic waste landfill in predominantly African American Warren County, I coined the term "environmental racism." Warren County was also the place where Congress of Racial Equality Chairman Floyd B. McKissick, Sr., the first African American to receive a law degree from the University of North Carolina, attempted to build Soul City as an economic empowerment zone and a new city for Black Americans and others who considered themselves progressive.
Environmental racism is the intentional racial discrimination in the deliberate targeting of ethnic and minority communities for exposure to toxic and hazardous waste sites and facilities, coupled with the systematic exclusion of racial minorities in environmental policy making, enforcement, and remediation. As a result of the definitive work that we did on this issue back in the 1980s, today there are effective and transformative environmental justice movements and organizations across America and throughout the world.
One day, I hope we'll be able to look back and say the same about economic racism.
---
Benjamin F. Chavis, Jr. is the President and CEO of the National Newspaper Publishers Association (NNPA) and can be reached for national advertisement sales and partnership proposals at: dr.bchavis@nnpa.org; and for lectures and other professional consultations at: http://drbenjaminfchavisjr.wix.com/drbfc.
---