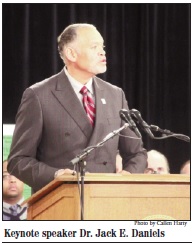 The 34th annual "Tribute and Ceremony" honoring Dr. Martin Luther King Jr. was held in the Capitol Rotunda on Monday, Jan. 20, at noon. The theme of the celebration was "We Shall Not Be Moved."
This free event is the oldest official state ceremony in the nation dedicated to Martin Luther King and is produced and directed by Wisconsin Public Radio's Dr. Jonathan Overby. It was started in 1981 by then governor Republican Lee Sherman Dreyfus and continued by every governor since. Overby once again served as emcee of the event.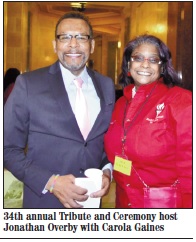 The event featured performances by the GMAC Mass Choir of Chicago, the Milwaukee Latino Arts Strings program, Wisconsin's Ho-Chunk singers and Madison's own Leotha Stanley and Friends. Stephon Williams, an eighth-grader at James C. Wright Middle School, recited King's "I Have A Dream" speech.
The 2014 MLK Heritage Awards were presented to Anita Herrera, Ronald C. Dunlap, Dr. Luiz "Tony" Baez, and posthumously to Dr. Eugene Farley.
"This is a tremendous honor. The late Bayard Rustin once said, 'Where do you find hope? You don't find hope, you make hope.'" Dunlap said. "I think you make hope by being involved and doing something. And I can say that we have continued to do something and we must continue the fight for justice and equality for all."
Dr. Baez, the executive director of Centro Hispano in Milwaukee, said he was excited to be at this diverse celebration and thanked the committee for selecting him for the award.
"I'm honored and I'm humbled by the fact that I am receiving this award. It's very difficult to follow the legacy of Dr. Martin Luther King. Very difficult, but very rewarding. Because he fought for justice for everybody and he fought the good fight that we should give in our communities to make democracy and freedom safe for everybody. He fought for laws that would ensure that we would be exercising freedom to the maximum that we could. Martin Luther King said, 'Wherever there is injustice there could be a threat to all of us — it would be a threat to justice — if we don't work to change it.
Farley's grandson, Chad, told the crowd that he was honored to be at the event accepting the award for his grandfather, Dr. Eugene Farley. "Were he here today, I think he would be a little embarrassed and very proud," Farley said. "No award anywhere would mean more to him than an award based upon the ideals of Martin Luther King. I'm sure he would have thanked his wife, Dr. Linda Farley, his partner of 54 years, and the entire community of Wisconsin and all of the people who have worked towards civil rights and social justice and all of the people at the Farley Center for Peace, Justice, and Sustainability.
"My grandfather strongly believed that America's diversity is the fortunate outcome of the history of struggle still going on today and epitomized by the civil rights movement and Dr. Martin Luther King," he continued. "Although this history was often troubled and painful, he believed that the diversity of our country was by far its greatest strength."
The first African-American president of Madison College, Jack Daniels, was the MLK 2014 keynote speaker.
"Dr. King saw a world where all individuals would be treated equally — a world where education and services would be offered equitably," Daniels said. "I envision migrant communities where there are bonds to assist those with limited skills and abilities, provide avenues for growth for those who seek it, and continue to encourage those who we will be looking out for in the future – the children."
Poverty, Daniels said, exists here in Madison as it does in other parts of the nation. "In my travels, no one has a monopoly on poverty," he said. "However, I have observed that the pathway to economic equality is through education and job training culminating through job attainment. The end we seek is economic equity — the means is through education and training. In our context today, this means is achieved through our technical colleges."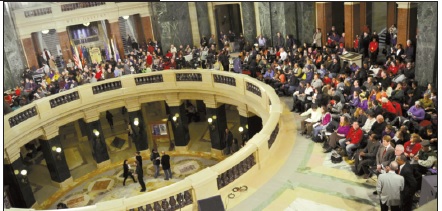 Daniels went on to say that Madison College serves more students at the baccalaureate level than any other institution in the state. "MATC facilitates learning and skill development and attainment for over 40,000 students through our nine campuses… over 100 different programs," he said. Our technical colleges in the state of Wisconsin are prepared, poised, and actively providing the education and training to address skill gaps and have individuals well-prepared to meet the employee demand of our businesses and our industries."
"I submit to you this afternoon that technical colleges have a significant role in changing the agenda for the unemployed and underemployed," Daniels added. "As technical colleges, we stand ready and at the forefront to provide what our businesses are asking for — quality employees with quality skills. This is our business. Community colleges are one of the great undervalued assets in our education system."
Daniels said that if we strategize effectively we can provide employers with qualified employees in a much earlier timeframe. "The achievement gap, as identified recently within our Madison schools, is unacceptable," Daniels said. "When 50 percent of our local African American students don't graduate on time and the probability of graduating with a degree or marketable skill is equally as daunting, how can we as a technical college assist to eradicate this issue?
Daniels went on to say that the unemployment rate of African Americans in Dane County as compared to whites is quite numbing. "It's chilling. In 2011, African American unemployment in Dane County exceeded 24 percent; while the Anglo unemployment was less than 5 percent," he said. "If we don't begin to intervene, potential generations will be chronically unemployed, underemployed, and limited to the level of training that is expected by employers. We will be neglecting a significant amount of our people of color. This neglect and loss of a significant component of our potential workforce — especially in those areas that require less than a baccalaureate — is unacceptable and dangerous."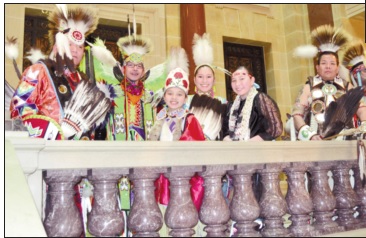 This was the same population that Dr. King was moving toward empowerment, he said.
"If you encourage adults of color to enroll in workforce training or post-secondary programs, that is one way that Wisconsin can meet the shortage of middle-skilled workers," Daniels said.