2nd Annual Urban Cabaret: Fundraiser highlights ULGM's community impact
The Urban League of Greater Madison's 2nd annual Urban Cabaret will take place Friday, Sept. 19, at the Monona Terrace Community and Convention Center.
The Urban Cabaret, a spin on last year's sold-out Jazz Cabaret that featured an eclectic mix of music and magic, is inspired by Dr. Maya Angelou's "Cabaret for Freedom," a fundraiser for the Southern Christian Leadership Conference held in 1960. Providing a stage for local artists to perform and to help tell the story of the African-American experience seemed like a natural way for the Urban League to get its message out.
"Last year's event was really successful — they raised close to $95,000," says Urban League of Greater Madison (ULGM) board member Gloria Ladson-Billings in an interview with The Madison Times. "This one is selling really well, too. Tickets are going fast."
ULGM's financial goal this year is to raise $100,000 and Ladson-Billings says they are getting close.
"One of the main differences for this year's event is the inclusion of the [UW Office of Multicultural Arts Initiatives] First Wave students," Ladson-Billings says. "I know that they will be making some very powerful presentations that will make people just stand up and take notice."
Because of the Urban League's relationship with the University of Wisconsin's First Wave Spoken Word and Urban Arts Community, they have access to a powerful creativity that will be showcased at the event and will offer some fresh, youthful, and relevant artistry that won't be typically offered in the mainstream community.
Going from a Jazz Cabaret to an Urban Cabaret, this year's event seems like it's a little more young people friendly. "I think the event has been broadened to include more youth but our think our previous audience will still really enjoy it quite a bit," Ladson-Billings says. "But, yes, we have a lot of young performers. We wanted young people to know that they would really enjoy it, too."
The Urban Cabaret will also feature the Boys and Girls Club's Black Star Drumline and The Bellhops, a student ensemble of musicians, writers, and singers led by Taylor Scott. Scott performed at last year's Jazz Cabaret. This year's performance features original songs and poems that take musical cues from blues, hip-hop, jazz, and spoken-word traditions to communicate about themes of race, womanhood, and survival in the United States.
First Wave Creative Director Rain Wilson will perform a theatrical piece created specifically for this event titled "A Piece of Sky" which was inspired by Maya Angelou's "I Know Why the Caged Bird Sings." She hopes to inspire attendees to collectively unlock the cages that hold back many African Americans today.
In addition to the main performances, there will be strolling magic by Lochlan Masters, stilt walkers, Cabaret Cuisine, performances by Cycropia Aerial Dance and a dance party with DJ Chill. At the event, the 2014 Whitney M. Young, Jr. Award will be presented to Dr. Floyd Rose.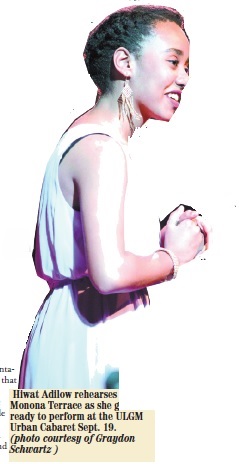 The event itself is a way to empower, educate, and employ while providing attendees and artists a way to intimately communicate ideas and experiences and for local artists to perform and connect with the community. Proceeds from the Urban Cabaret will benefit many of ULGM's great programs which — more and more — are focusing on workforce development.
"I think under the leadership of [Interim ULGM President/CEO and former Madison Police] Chief [Noble] Wray that the Urban League has decided to really focus on workforce development," Ladson-Billings says. "Its early goals — all of them good — were maybe a little too broad for a league of this size as well as the fact that there are a lot of people [in the community] working in the other areas already.
"We can literally show the incredible impact that workforce development will have on all the other things," she adds. "If people have jobs, then they are going to have housing. If they have jobs, they will be more comfortable and be able to offer their kids more educational opportunities. By having a laserlike focus on workforce development, we are attacking a whole array of problems including housing, education, and the whole issue of incarceration. I think we picked the right focus and that is where the resources that we are targeting will go."
The Urban League board of directors is currently in search mode for a permanent president and CEO. "We are doing a national search. It takes awhile," Ladson-Billings says. "We have to have the right candidate at this juncture."
In the meantime, the Urban Cabaret will be a fun chance to catch up on everything that the Urban League is doing for the community.
"I think given all of the heat and light around Wisconsin and Dane County's failure to provide good quality of life for specific segments of our community — specifically blacks and Latinos — this is an opportunity of people to have a good time and to do good," Ladson-Billings says. "One of my favorite radio personalities on urban radio says, 'You need to have a party with a purpose.' I feel like this is. It's a fun event. It's educational. It's great networking. It's an interesting event.
"Our goal is to help the community understand that the Urban League is here to stay and still doing the kind of work that it expects us to do," she adds.
For more information contact Hedi Rudd at (608) 729-1268 or hrudd@ulgm.org. To purchase tickets visit http://urbancabaret.kintera.org/faf/home/default.asp?ievent=1117965.