2014 Women of Distinction awards: YWCA honors six women
by A. David Dahmer
For the 40th year, YWCA Madison honored area female leaders with its 2014 Women of Distinction Awards Luncheon.
The event was held during the YWCA Moxie Conference at the Monona Terrace Community and Convention Center May 29. Despite many gains in access and equality, women in the United States still face significant wage gaps and hold fewer senior leadership positions than men. The Moxie Conference works to change this and fulfill the YWCA's mission of eliminating racism and empowering women by strengthening conference attendees' personal career skills and creating a coalition of people dedicated towards collective action aimed at removing structural barriers for women in leadership.
"We had a great morning today at the Moxie Conference exploring topics of women's leadership. Together, we are building a future of greater equity in the workplace and in the community," said Malika Evanco, YWCA board member and co-chair of the Women of Distinction Committee. "Today, we will present awards to six outstanding, fabulous Women of Distinction who are leaders in our community. As you hear their stories, you will see the many different forms that leadership can take."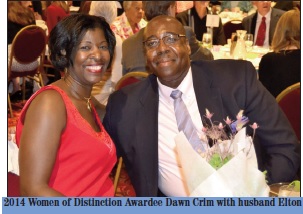 Evanco went on to say that since its beginnings in 1974, more than 200 women have been honored as YWCA's Women of Distinction.
The 2014 Women of Distinction Leadership Award recipients included Sadat Abir, a psychiatric nurse practitioner for William S. Middleton Memorial Veterans Hospital; Emily Auerbach, professor of English and originator of the UW Odyssey Project; Dawn Crim, associate dean in the UW-Madison School of Education; Sally Miley, assistant to the mayor; and Teresa Téllez-Girón, of the Dane County Department of Human Services; and Dr. Laurel
Rice, professor and chair of obstetrics and gynecology in the University of Wisconsin School of Medicine and Public Health.
Abir thanked her parents for teaching her how to care and how to give graciously. "They taught me to build a strong community," she said. "We need to truly care. My parents gave me a gift that kept on giving.
"As the saying goes, 'if you like what you do … you are a happy person,'" she continued. "I love what I do. My passion to reach out to the disadvantaged comes from my experience being poor and not knowing what we will eat the next day [and] working many jobs to put food on the table. I did that and along with the support of all these beautiful people, I am able to be here today. I'm asking you all today that when you leave — go out there and look for somebody who might be feeling hopeless like I was … and make a difference in their lives."
Crim said that her accomplishments fulfilled the goals and dreams and desires of her family. "My dad always said, 'I want you to be better and to have more than what we had,' and 'no matter how much you accomplish, treat everybody with respect … how you want to be treated,'" Crim said. "My parents really gave me the freedom to be me. They supported me.
"As I think about the next generation of leaders, I say, 'Keep close ties with your family and friends. There's nothing like close connections with people who really know you and really support you,'" she added.
Rice advised the women at the event to "surround yourself with people who are willing tell you what you're doing wrong."
"Powerful, active listening, allowing yourself time to think, digest and strategize," she said. "Never lose sight of the importance of growing your people. It is a key metric by which you should judge yourself. Once you become a leader of any sort, it is all about developing the lives and careers of those you work with."
Téllez-Girón said that she often gets asked who her role model is. "I immediately think about my incredible mother [Yolanda Salazar] who everybody knows because she is a leader in this community," she said. "She became a mother when she was really young and she did not graduate from elementary school or high school. But by the age of 40, she graduated with a law degree.
"My father, who is not here with us today, was a wonderful role model in my life since I was a baby," Téllez-Girón continued. "Both of them installed in me the moral compass and passion to be the person that I have become."
Téllez-Girón closed by giving advice to the new leaders in the community. "Learn to find a balance in your life — your professional life and your family," she said. "Do your homework and decide what exactly is your cause. Be positive and be passionate. Inspire and empower others. Encourage creativity and have a sense of humor. Accept constructive criticism. Most importantly, be humble. Never, ever forget who you are or where you came from. Always take good care of yourself — you are very important."