"Building Solidarity & Empowering Each Other"
by A. David Dahmer
The 18th annual La Mujer Latina Conference will be held March 29 at the Pyle Center on the University of Wisconsin-Madison campus. This year's theme is "Building Solidarity And Empowering Each Other."
"It was a runner-up theme from last year when we went with 'Creating a Healthy Latina Environment: Physically, Mentally, Spiritually.' We really liked it so we decided to go with it this year. We're really excited about it," says UW-Madison junior Marianna Rivera, the chairperson for the conference. "A number of La Mujer Latina members over the last school year expressed that they felt like Latinos were pretty separated here on campus and I have to agree to a certain extent. There are a lot of different boards and groups and sororities and people come from a lot of different places. Many times people go their separate ways. We don't necessarily think that is a bad thing, but we would like to see a little bit more unity among women of color; especially Latinas. We chose this theme so we could bring together as many Latinas on campus as we can and embrace the things that we have in common and use that to empower ourselves."
La Mujer Latina is a student organization at the UW-Madison that is dedicated to bringing together Latinas to identify pressing issues affecting the welfare of Latinas in the university and Madison communities. In doing so, La Mujer Latina strives to build relationships and to advocate for positive change for Latinas.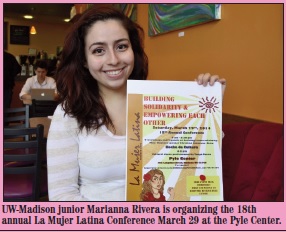 "Our annual conference is our big event but we have smaller events throughout the year where we bring people together," Rivera says. "During Hispanic Heritage Month, for example, we held a Dessert Bar where we invited a handful of other student organizations on campus and everybody brought in a dessert and we networked. It was really fun. We had a nice turnout and we all enjoyed buñuelos and flan and chocoflan."
La Mujer Latina's vision is to bring together scholars, activists, and community workers in hopes of positively impacting the lives of Latinas. Throughout the year, they also hold monthly themed Grupo de Mujeres pláticas (women's group discussions) where women gather to talk about important issues. "It's fun because it's different from a regular meeting where you have a set agenda. We sit around and talk and eat in a casual way," Rivera says. "People feel comfortable and they open up at the discussions."
As a freshman from Chicago on the UW campus two years ago, Rivera found La Mujer Latina (LML) as she searched for an organization where she could meet and interact with other Latinas. Last year, as a sophomore, she was outreach coordinator and helped organize the conference. This year, she is the chairperson for the event.
"It's really fun to see this conference come together. It really pays off the morning of when we get to the Pyle Center and seeing that everything is set up and organized and ready to go," Rivera says. "Then to see all of the people and presenters at the conference is very rewarding as we get great feedback from them."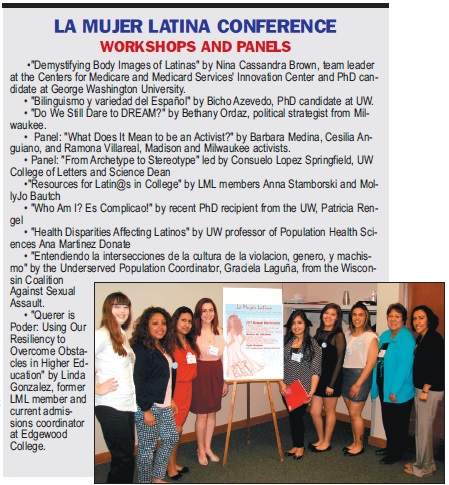 The event is not only open to the university crowd, it's something for the whole community to enjoy.
"At last year's event, we loved having people from the community come out to the conference and we'd like to see even more of that this year," Rivera says. "I feel like a lot of the things that we are talking about are things that maybe the university crowd is already familiar with. I feel like this conference is a great opportunity for people outside of the university setting to come to campus and to meet other people and get in touch with what leaders in our community are doing and to find out about all of the resources that are available to them.
"We really want to inspire women to see the great things that students our age are doing on campus and maybe inspire them or their daughters to discover different things," Rivera adds. "And while this conference is geared towards Latinas, we love seeing men there and we love seeing women of all ethnicities. If you're not Latina yourself but are seeking to create solidarity with other people of color in general, this will be a good conference to come to."
The event is free and there will also be free childcare. Lunch and dinner will be provided by El Pastor.
The keynote speaker will be Christine Neumann-Ortiz. the founding executive director of Voces de la Frontera, a low-wage and immigrant workers center with chapters in Milwaukee and Racine. She will be speaking on the current broken immigration system and how it is especially detrimental to women and children.
The Noche de Cultura (A Night of Culture) will be held in the evening after the last workshop and will feature Tango Basico, tango performers from Madison.
Rivera hopes the event will unite Latinas from all over campus, the Madison community, and beyond.
"I hope that people will come and get inspired. Wherever they live, wherever they work, or wherever they go to church, if there is another Latina out there that they haven't gotten to know yet because they feel like they are very different and they won't have anything to talk about …. hopefully, this event will make them feel more comfortable coming together. Especially in a town like Madison where there are so few people of color and a lot of times we, unfortunately, are divided. We have many goals for this conference but I hope, at the very least, that this conference helps inspire more unity among Latinos."
The 18th annual La Mujer Latina Conference will take place March 29 at the Pyle Center, 702 Langdon St. For more information, e-mail mariannarivera27@yahoo.com or visit La Mujer Latina on Facebook.