The Boys & Girls Club of Dane County (BGCDC) will hold its 12th annual Bike for Boys & Girls Club event this Saturday, July 19. The ride will feature three distances for participants: 8 miles, 25 miles, and 50 miles. All three distances will leave from the Edgewood High School parking lot on Saturday morning.
Michael Johnson, CEO for the Boys & Girls Club of Dane County, is extremely excited about this year's event. "We're trying to raise $400,000 this year," he tells The Madison Times. "When this Madison Times comes out, we should be around $300,000 and needing about $100,000 for our goal. We really want to ask the community to step up to help us reach it."
Johnson says he expects about 1,200 people to ride and raise money for the event representing 61 different companies. People can still show up the day of the event to register and ride. After the ride, participants can enjoy an after-party with food and frozen custard provided by Metcalfe's, Chipotle, Oscar Meyer, and Culver's, and beer provided by Capital Brewery. There will be face-painting and live entertainment.
"This is our biggest and our last fund-raiser of the year. We really want people to come out and support it," Johnson says.
Starting this Wednesday, Johnson will once again be camping and sleeping on a semi-trailer on top of Metcalfe's Supermarket on University Ave., to help raise money for the Boys and Girls Club kids. "This year, I'll be landing on that trailer via an airplane. I'll be parachuting right down onto it Wednesday at noon," Johnson says. "I'll stay up there until we raise $400,000."
Is Johnson excited or scared about this parachute business?
"I'm a little nervous," Johnson smiles. "But whatever it takes to bring attention and to raise money for the kids…. I'm willing to do it."
The annual Bike for Boys & Girls Club is a fun time for families and begins and ends at Edgewood High School, 2219 Monroe St. The event includes three distances: eight, 25, and 50 miles. Riders may sign up as individuals or join a team, with all ages and abilities welcome. Participants pay an entry fee and agree to raise pledges of a certain amount.
Riders also have the opportunity to earn a variety of prizes for meeting different pledge levels and everyone who rides receives a 2014 Bike for Boys and Girls Club goodie bag filled with a T-shirt, restaurant certificates, nutritious snack, and water bottle.
A post-ride party at Edgewood is open to all riders, with food, beverages and live music. Event sponsor Trek Bicycles will give away prizes. "For every $250 a person raises for this event, Trek will give them a $50 gift certificate," Johnson says. "If you raise $10,000; you'll get a $2,000 gift certificate."
Johnson is an avid biker himself and he plans on going 50 miles — probably early in the morning so he can mingle with the guests.
"I'm still biking quite a bit. It has kept me healthy. I just had my bloodwork done and I came back with a good, clean bill of health," he says. "I want to encourage people to get out there and get their annual physical done. Even though I'm a big guy, bike riding has really kept me healthy. It's a great way to stay in shape. I look forward to this event every single year. I hope people come out and support it."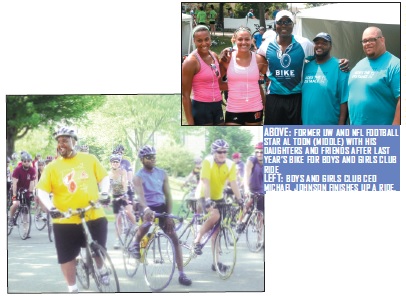 The Bike For Boys and Girls Club ride provides cyclists with a fully supported ride complete with rest stops and tech support, Bike for Boys & Girls Club is also the Club's biggest fundraiser of the year and helps them with a variety of things.
The Boys & Girls Club of Dane County is a not-for-profit youth development organization that serves nearly 2,000 young people every year. The Clubs fuel kids with the inspiration to dream and teach them the skills to achieve when they're most impressionable through quality programs in five core areas: Character & Leadership Development; Education & Career Development; Health & Life Skills; The Arts; and Sports, Fitness & Recreation. Boys and Girls Clubs also run the Teens of Promise (TOPS) program in all Madison Metropolitan Schools. This initiative works with high school students to prepare them for college.
Currently, the Boys & Girls Club are renovating a facility for a new Teen and Employment Center. "Teens will be able to come in and we can help them look for jobs," Johnson says. "Our new central office will be there. We're trying to raise the money to lease this facility for the next five or ten years. That will be our next big project."

For more information on how to donate or to sign up as a rider or volunteer, visit www.bike4bgc.com.